CSER 2019: Call For Papers – Updated
Call for Papers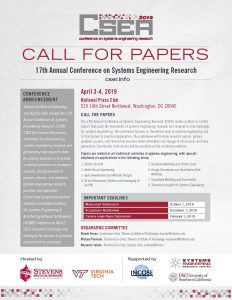 The 17th Annual Conference on Systems Engineering Research (CSER) invites authors to submit papers that push the boundaries of systems engineering research and respond to new challenges for systems engineering. The conference focuses on theoretical work in systems engineering and its translation to practical application. The conference will include research papers, plenary speakers, panels, and interactive sessions where attendees can engage in discussions and idea generation. Submission instructions will be available on the conference website.
Papers are invited in all traditional activities of systems engineering, with special emphasis on applications to the following areas:
System Security;
Model Based Engineering;
Agile Development and Modular Designs;
SE for Autonomous Systems and Leveraging AI and ML;
Resilience Modeling and System Trust;
Design Uncertainty and Quantitative Risk Modeling
Complexity Modeling and Assessment
Theoretical Insights for Systems Engineering

Updated Deadlines (as of 9/28/18):
Manuscript Submission: November 1, 2018
Acceptance Notification: January 15, 2019
Camera-ready Paper Submission: February 20, 2019

Instructions for Authors
Manuscripts should be submitted through EDAS (http://edas.info/N25285)
For the initial peer review no specific template will be required.
However, manuscripts should be 8 pages or less at Times New Roman 10 pt font.
This length includes all figures, tables, and references.
Furthermore, all submissions should be an original, complete research paper.
No extended abstracts.